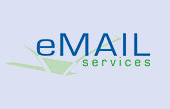 Capture your target audience, understand their behaviour and get closer. Email Services is the most cost-effective and one of the best online marketing tools in generating sales leads, increase awareness and achieving customer retention.
It's important to execute the appropriate marketing program in order to communicate effectively with your target audience.
Email Services provide a comprehensive range of fully-managed email marketing services.
We enable you to reduce your current email marketing costs, maximise the reach of your email campaigns and obtain critical intelligence about your email marketing campaigns.
Email marketing is recognised as an inexpensive, powerful marketing tool. It is fast and the results are immediate and measurable.
When well-executed, it is an effective tool for communicating with customers to drive new business.
Why outsource your email marketing?
Tap into expertise, and avoid common pitfalls
Ensure you reach the maximum number of recipients (e.g. avoiding detection of your permission-based email, by SPAM filters)
Maximise the effectiveness of your campaigns by personalising them. Research shows that recipients are more likely to read personalised emails.
Ensure unsubscribe requests are professionally handled and that you are in compliance with Anti-SPAM legislation.Obtain real-time statistics and reports on your campaign
Execute your e-marketing initiatives quickly and without fuss.
No hardware, software, infrastructure or training required.
Talk to us now to explore how you can kick-off your cost effective online marketing efforts further.


"We consider e-marketing to be a crucial component of our overall marketing strategy.
The Email Services solution is simple to use and is cost effective. They have demonstrated they can deliver, are responsive and adaptive to our unique requirements."
Mr Doron Lazarus
Head of Marketing and Retail Operations
Miller's Retail Limited.