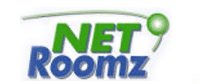 Netroomz is a web booking engine with a unique approach, with the proven track record for generating more website bookings, direct for our customers.
Netroomz was launched in Australia two years ago and is already a proven performer in web booking technology. In this relatively short time, Netroomz has displaced traditional booking engines for many well-known hotel chains and independent hotels, generating significant increases in their direct website revenue... typically in excess of 500% as a result.
How? Netroomz is fast, friendly and simple for your online customers to use. It has "stick-ability" – that specific capacity to keep YOUR customer at YOUR website, to complete the booking process.
How do we make it easy for your customers to book your hotel? We simply give the online customer what they are used to, a fast and simple way to view and compare rates and availability up front – modelling the last-minute style of booking portal sites.



United States of America
600 Northpark Town Center
Suite 1700
1200 Abernathy Road
Atlanta, GA 30328
P: (404)-806-6814
F: 770.234.4295
contact@netroomz.com

Australia
Ground Floor
56 Delhi Road
North Ryde
NSW 2113
P: +61.2.9889 4326
F: +61.2.9475 4162
contact@netroomz.com.au



"We rely on our website as a major source of reservations. It is essential that our customers can book through our website easily and quickly at any time. Netroomz provides a proven, user-friendly way for our customers to browse rates and availability and make a booking. Netroomz is enabling us to continually increase our direct online bookings."
Mr John Farrell
Chief Executive Officer
Travelodge Hotels